Remember Those Lost
In the Region of Durham, Ontario, Canada, four women and three children have died re either domestic violence circumstances or, in the case of two of the children, 'at the hand/supervision of their father', in the past two years. The latest victim, two year old Alexis Currie, whose body was discovered Thursday afternoon, March 14, 2002 in a wooded area after an intense three-day search that began in Toronto, disappeared after her father failed to return her home to her mother. Alexis was last seen on Friday March 8 with her four year old sister, Robyn, when their father picked them up in Scarborough for a custodial visit. Robyn was returned home; Alexis was murdered. The little girl died from a "sharp force injury to the neck."
Marcia Harmon (42) and her six year old daughter Danielle were killed by their husband and father, Montgomery Harmon, in March of 2000.
Kyra-Lee Sibthorpe died after being attacked by a Rottweiler in January 2002, while under her father's supervision. She was four. Her father was nowhere to be found after the attack; he just 'disappeared.'
In June 2001 the body of Andrea Schneider (38) was found stuffed in the trunk of a car; her husband James Steward Poland, has been charged with murder.
On Mother's Day 2000, Hermoutie Raghunauth (28) was found dead in her Pickering home. Toxicology tests showed she had been poisoned. Her husband Ganeshram Raghunauth has been charged with murder.
Gillian Hadley was murdered in June 2000 by her estranged husband Ralph who was, at the time of the murder, under a restraint to stay away from the couple's home and not to contact Gillian.
An excerpt from the sign a neighbour placed at the home of Gillian reads:
"How long, how hard, and in how many ways does a woman have to fight for her life?"
---
Durham Region Police Detective Constable Cheryl Carter calls spousal abuse "an issue of control, dominance and manipulation of your partner." Det. Const. Carter is working with the Ajax-Pickering Women's Shelter to set up a facility for abused women and children in west Durham. Oshawa has Denise House, named for murder victim Denise Penny. She died at the hands of her husband, after he literally tracked her down when she travelled west to flee him.
---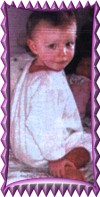 BABY ALEXIS WAS MURDERED BY HER FATHER PETER CURRIE. HE SLIT HER THROAT THEN LEFT HER TO BLEED TO DEATH IN A REMOTE AREA.
---