The brother of a slain Mississauga teen was granted a $10,000 bail in a courtroom in Brampton on Friday.

Waqas Parvez, 26, was released on his own recognizance and ordered to surrender both his Canadian and Pakistani passports. He was charged with obstructing the investigation surrounding the murder of his 16-year-old sister Aqsa.

Their father Muhammad Parvez, 57, was charged with Second-Degree murder after he allegedly strangled Aqsa to death over reported tensions about her refusal to wear a Hijab, a traditional Muslim garb.

Meanwhile, Muslim religious leaders said the crime shouldn't be linked to the faith. They said it's an issue of domestic violence.

Dressed in a black bomber jacket and grey shirt, Parvez expressed little emotion during his court appearance. The judge asked him to return on January 10, 2008.
There's a publication ban on evidence presented at the hearing, which was also attended by his brother, Muhammad Shan Parvez.

Parvez's release comes just one day before Aqsa's funeral that's going to be held at 1:30pm Saturday at the Islamic Centre of Canada Mosque located at 2200 South Sheridan Way in Mississauga. The service won't be open to the public.
---
Cause Of Death In 16-Yr.-Old's Murder Revealed, As Brother Denies Hijab Was Source Of Family Controversy
Wednesday December 12, 2007
Was it a clash of cultures that led to a clash involving deadly violence in a quiet Mississauga home on Monday? Police aren't saying a lot about their investigation into the death of 16-year-old Aqsa Parvez at her Longhorn Trail address, near Eglinton and Hurontario in Mississauga. The Applewood Heights Secondary School student was discovered clinging to life after a man phoned police to say he'd just killed his daughter. She died later that night in hospital. Evidence indicated she may have been strangled.
A neighbourhood already in shock over someone so young losing her life got more jolts when it was revealed her 57-year-old father was being held for murder in connection with the crime. And while the investigation is ongoing, those who know the victim are sure it centered around a rebellious young girl and a battle over tradition and the modern world. Friends claim the teen was desperately trying to pull away from the strict tenets of her devout Muslim family and lived in fear of her father.
"Every single time, we'd get off the school bus she would always want me to walk her halfway home because she was paranoid her dad or brother would follow her home," remembers her good friend Ashley Garbutt. "She used to walk the rest of the way home. I stopped for a little while and after, I kept continuing because I understood it was a serious matter. And then after, I was expecting her to come to school on Monday and everything was going to be fine."
But as students at the school discovered when the announcement of their friends' death came over the PA system on Tuesday, nothing was.
Her friends tell of a troubled family life, with the teen refusing to wear the traditional head covering hijab, and preferring more Western-style clothing.
"She wanted to be her own person," Garbutt adds. "She wanted to show who she really was. She wanted to show her own beauty. But he wanted her ... to wear Pakistani clothing, wearing the hijab and everything, but she didn't want to do that."
Apparently Aqsa moved out of the family home and was staying with a friend at the time of her death. There is speculation she may have only gone back to the residence to get some belongings. It would prove to be a fatal decision.
"She's kind of rebellious a bit," confirms classmate Heather Bottecher. "She's supposed to wear the hijab. But she doesn't usually wear it. And she usually wears short sleeves when you're supposed to wear long sleeves. And she wears, like, low cut shirts and stuff like that."
"We noticed a drastic change in her appearance," another friend, Shianne Phillips, recalls. "Like, she used to dress religiously. Now she's dressing in, like, more causal clothing, like other people."
There are reports the teen would wear the special garb to school then change when she got there to fool her father.
The entire family - seven adults and three children - was questioned by police after the crime and cops claim they found enough evidence to charge the victim's brother, 26-year-old Waqas Parvez, with obstructing justice.
Grief counsellors were at the school on Tuesday to try and help shocked students cope with the loss.
---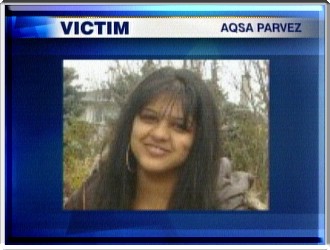 My personal opinion as the creator of this WISDOM FOR WOMEN website, if you don't want your kids to acquire the western world attire then go back to your country.
You cannot bring your children here, or give birth to them/raise them here in Canada and not expect them to want to fit in with Canadian civilization.
Children have to fit in, in this society and when they don't they are crucified.
In Aqsa's case, because she wanted to fit in and be accepted, because she wanted to be a typical Canadian girl, her own FATHER murdered her. Her FATHER.
A man stuck in the tradition of a society that lives across the pond, a society that rules and dominates women. A society that looks down on women as meaningless burdens to society, a creature born only to bear sons and wait on a man hand and foot. Get in your boat and go home fella.
---