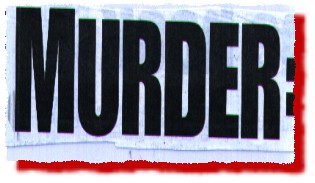 faces of the children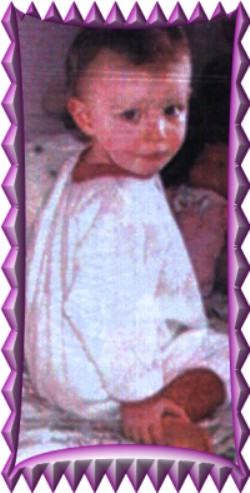 An autopsy determined that two year old Alexis Currie bled to death after her throat was slit. Her father PETER CURRIE has been charged with first-degree murder.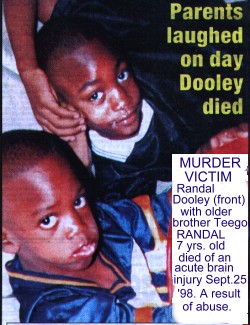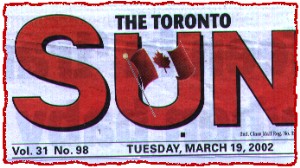 Four year old Kyra's body was found in a field at her father's (Andrew Sibthorpe) home. Sibthorpe was looking after the dog for a friend, the dog that attacked & killed Kyra.
---
WE MUST NOT FORGET AND WE MUST STOP STANDING BACK!
Marcia Harmon (42) and her six year old daughter Danielle were killed by their husband and father, Montgomery Harmon, in March of 2000.
Kyra-Lee Sibthorpe died after being attacked by a Rottweiler in January 2002, while under her father's supervision. She was four. Her father was nowhere to be found after the attack; he just 'disappeared.'
In June 2001 the body of Andrea Schneider (38) was found stuffed in the trunk of a car; her husband James Steward Poland, has been charged with murder.
On Mother's Day 2000, Hermoutie Raghunauth (28) was found dead in her Pickering home. Toxicology tests showed she had been poisoned. Her husband Ganeshram Raghunauth has been charged with murder.
Gillian Hadley was murdered in June 2000 by her estranged husband Ralph who was, at the time of the murder, under a restraint to stay away from the couple's home and not to contact Gillian.
BRING BACK CAPITAL PUNISHMENT!
Government of Canada: Attorney General: The Honourable Martin Cauchon, Minister of Justice and Attorney General of Canada, 284 Wellington Street, Ottawa, ON K1A 0H8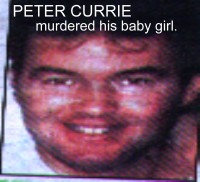 The above is PETER CURRIE. As written on the photo, he murdered his baby girl. He slit his two year old daughter's throat and left her to bleed to death, alone, in the cold, in a wooded area.
Remembering those lost to violence:
Nicole Moran, 11 years old, literally vanished from her apartment building in 1985. She got on the elevator outside her unit to meet a friend in the building; they were going swimming. Nicole never made it to her friend's unit and she has not been seen since.
Andrea Atkinson, 6 years old, sexually assaulted and murdered. If I remember correctly she was found in the electrical/furnace room on the roof of her apartment building.
Kayla Klauduz, 3 years old, sexually assaulted and murdered by a neighbour.
Christine Jessup, 9 years old, abducted after school. Christine was sexually assaulted & murdered. She disappeared October 3, 1984 and was found by a man walking his dog, on Dec. 31, in a wooded area. Christine was laying in the fetal position; she was not dead when her killer finished with her. Christine died alone in the woods.
Allison Parrot, 11 years old, thought she was meeting a photographer. Instead she met the man who would sexually assault her and kill her, leaving her body by the waterside.
Sharin' Morningstar Keenan, 12 years old. Sexually assaulted and murdered. The body of Sharin' was found stuffed in an old refrigerator.
Leslie Mahaffy, 14 years old, disappeared in 1991. Weeks later her body was found encased in cement, in pieces, in the river. Leslie was sexually assaulted, tortured, and murdered by Paul Bernardo and Karla Homolka.
Kristen French, 15 years old, was grabbed behind a church on her way home from school. Karla Homolka wound her fingers around Kristen's long hair so she could not get away. Homolka and Bernardo kept Kristen for days, brutally raping and torturing her, before they murdered her. Kristen's body was found in a ditch. Kristen died on April 19, 1992, my 35th birthday. After murdering Kristen, Bernardo and Homolka went to Easter dinner at Homolka's parents' home.
This is just in Ontario alone, and these are only a few of those abused then murdered. Some by parents, some by strangers.
I am just so very angry over the death of little Alexis Currie, that I wanted to create this page to 'put the face to the name.' I do not, nor will I ever understand, a parent murdering their child, or anyone murdering a child. I do not understand rape and torture or why anyone would want to do that to another human being. I especially do not understand the judicial system in this country, Canada, putting the killers behind bars where they have three square meals per day, activities, a TV, VCR, schooling, sheets and blankets in their favourite theme style. It costs Canadian taxpayers $60,000 per year, per prisoner, to house these killers. Karla Homolka was getting her psychology degree last I heard at absolutely no charge to her, however, we on the outside have to put out thousands of our own money in order to educate ourselves.
Until Canadians speak up, to their government, people will continue to kill and receive minimal punishment as a consequence. If they are jailed, the only thing they actually 'want for' is their freedom. They have a roof over their head, food, clothing, entertainment ( i.e. pizza & porn), education, jobs which they receive payment for, and free counseling.
What's wrong with this picture? Better yet, what's wrong with this country to allow this, because by allowing these luxuries to cold blooded killers, our CANADIAN government is giving its consent to murder.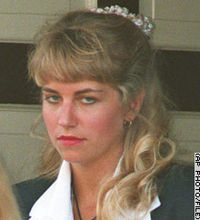 If you see this piece of crap out and about, remember how she murdered in cold blood
KRISTEN FRENCH, LESLIE MAHAFFY, and her own sister TAMMY HOMOLKA.
Click on the puke's photo for THE DEVIL IN HUMAN FORM.
Return to homepage Wisdom for Women:
---
...and we must never forget six year old Adam Walsh, abducted from the Hollywood Florida Mall on Monday July 27, 1981. Adam John Walsh, born November 14, 1974. Abducted, abused, & murdered by a complete stranger; another child lost to violence.

National Center for Missing and Exploited Children: 1-800-THE LOST. Adam Walsh Children's Fund: 1-800-892-7430. National Domestic Violence Hotline: 1-800-799-7233.

"You see that one really bright star, way up high? That's where Adam is. He's a star up in the sky."
©John Walsh - Tears of Rage - Copyright 1997© By John Walsh
---

---
---
---
View My Guestbook
Sign My Guestbook